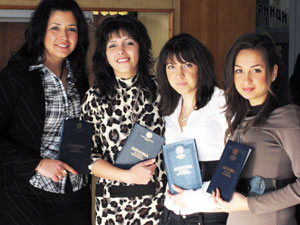 The degree course "Social Work" has been established as a result of a joint European project under the TEMPUS Programme in cooperation with the NHL University of Applied Sciences - Leeuwarden (Netherlands). It is a promising programme designed to meet the needs of society in highly qualified specialists prepared to deal with specific social problems and risks to individuals, groups and communities in all areas and levels of social security.
Graduates obtain the professional qualification of Bachelor and Master of Social Work.
The course of study takes place in two educational and qualification degrees – Bachelor and Master. Training is carried out in full-time and part-time form. The Bachelor degree course lasts 8 semesters and the degree of Master is achieved for two semesters, if the candidates have graduated with a Bachelor's degree in the same major and 3 or 4 semesters for graduates with other majors.
The students who pursue their studies in the Bachelor degree course acquire:
Solid fundamental training, providing expertise in various social problems;
Thorough theoretical knowledge in different scientific fields such as: philosophy, sociology, economics, law, computer science and statistics;
Skills for organization and management of social activities, for detecting and resolving social and personal problems of people, for socialization and resocialization of individuals, who are temporarily excluded from community for different reasons;
Practical training forming knowledge and skills for analyzing data, planning and intervention in communities such as families, small groups and other organizations, as well as practical work with individuals;
Specialized training, which gives freedom to choose certain subjects, depending on personal preferences of trained students.
The main areas of realization of Bachelor graduates are directly related to the competencies acquired during their training. They are prepared to work as specialists in:
Institutions for social protection and social assistance;
Structures for social services;
Structures of non-profit entities.
The training for the educational and qualification degree of Master aims at deepening the preparation in the field of social work in accordance with the current issues of their development by applying best practices of universities in Europe and Bulgaria.
The preparation of Masters in Social Work includes:
Ability to apply regulations in the social sphere and institutions;
Ability to integrate theoretical knowledge with practical experience as a guarantee of effective assistance and professional expertise;
Competencies in interpersonal interaction and decision making, technical and business administrative competence;
Competencies in meeting the professional and ethical standards of social work;
Competencies in project management;
Competencies in management and organization of social institutions.
Graduates of the Master degree programme can pursue professional career as specialists and managers of social institutions.