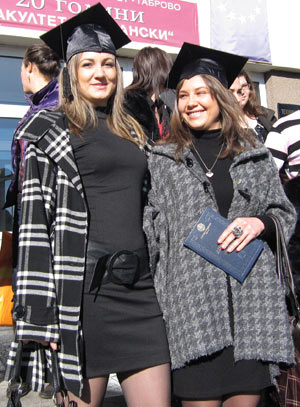 The degree course "Economics of Commerce" at the Technical University of Gabrovo has been accredited since 1999. It is in line with the international experience in the field and meets the higher education standards. When providing the students' training, close contacts with related universities in the country are kept and the traditional international cooperation with Kiev Polytechnic Institute /Ukraine/, Ludwigsburg University of Public Administration and Finance /Germany/ and the University of Applied Sciences – Mittweida is maintained.
The course of study takes place in the educational and qualification degree of Bachelor and lasts 8 semesters. Training is carried out in full-time and part-time form.
Graduates of this degree course obtain the professional qualification of "Economist".
During the course of study students learn macroeconomic theory, the theory of the market, the theory of business and acquire the following skills:
To study, evaluate and forecast market changes;
To organize and manage operationally business with all its inherent processes and operations;
To know the methods and tools of economic analysis, planning and forecasting and to apply them when managing business;
To know and follow the trends in scientific and technical progress and to develop and implement measures for innovating business;
To know the motivation of human behavior, to be able to manage staff and relationships with customers and partners.
In the degree course "Economics of Commerce", specialists are trained for the most widely developed area of the market economy – trade in goods and services. Graduates have the competence to establish, organize, operationally and strategically manage both small and medium-sized businesses as well as large companies in this field.
Graduates have the opportunity to work as:
Organizers and managers of own businesses;
Managers in marketing, logistics, sales, finance in commercial companies;
Sales representatives, agents, brokers;
Top managers in commercial companies and retail chains;
Organizers and mangers of shops and chain stores.